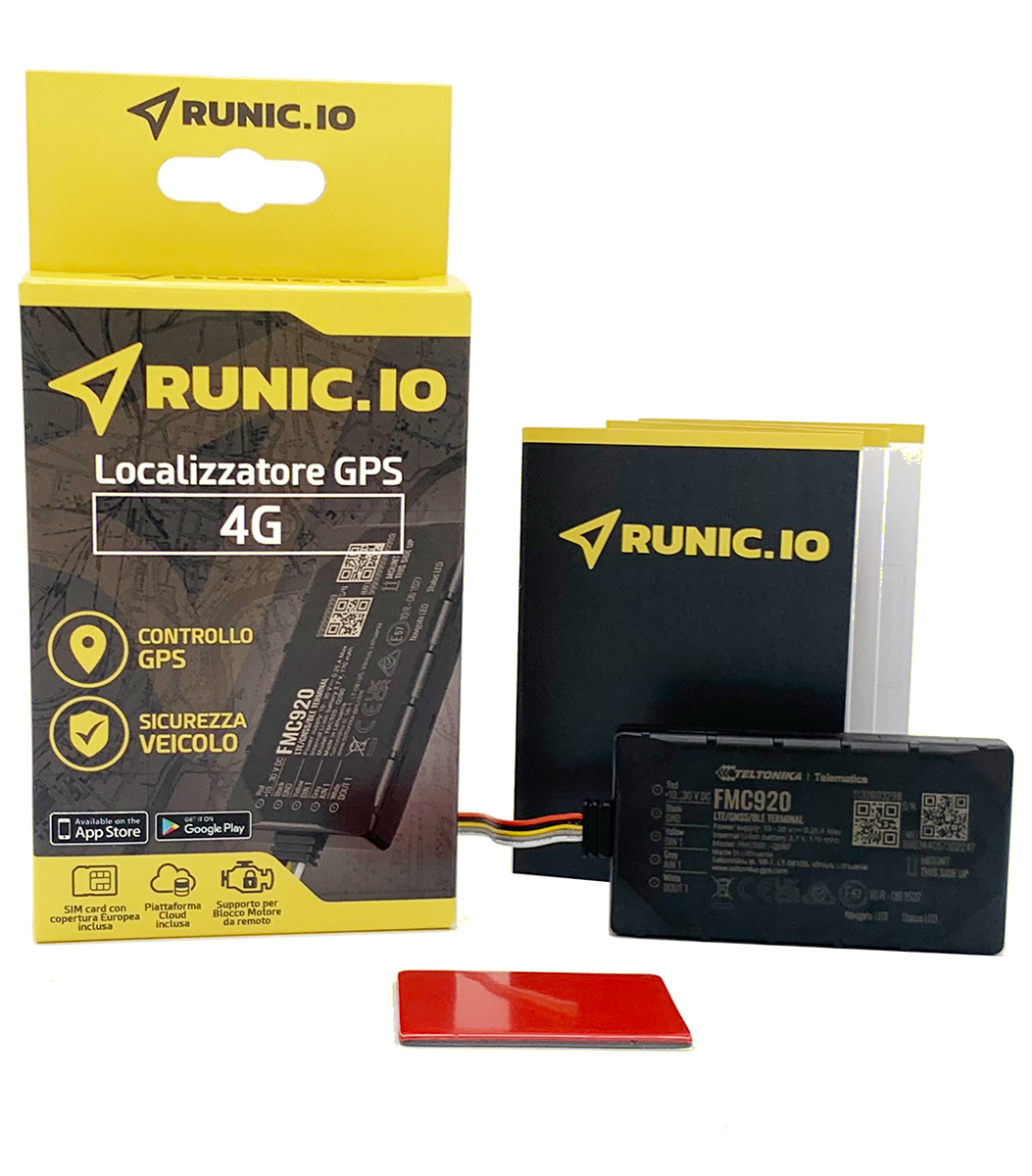 The fastest GPS Tracker for your vehicles
The Runic.io 4G fixed-installation GPS tracker is the ideal product for managing your commercial vehicle fleets and keeping your private and commercial vehicles safe
Full control of your vehicles
The Runic.io 4G GPS tracker enables real-time supervision of cars, motorcycles, trucks and boats, in over 140 countries.
Safety
Engine
Lock
The device allows remote activation of a vehicle ignition block, to properly manage all anomalies and alarms.
Technical specifications
Coverage
European
SIM card
Global coverage in more than 140 countries, without traffic limits, without restrictions, contracts, management charges or additional costs.
Why Runic.io?
Service
Cloud
Service
Immediate access, unlimited and guaranteed for any device, through our smartphone apps and a new-generation web portal.
Cloud features
All-inclusive price:
Runic.io 4G GPS tracker
2 months of unlimited Runic.io Cloud service
SIM card with coverage in more than 140 countries and 2 months of traffic included
No contract renewal restrictions
Description
Runic.io 4G GPS tracker for cars, motorcycles, vans and trucks, ideal for securely and professionally monitoring the location of all your vehicles and remotely protecting them with the click of a button
Technical specifications:
LTE Cat 1 Technology, bands B1/B3/B7/B8/B20/B28
Fallback over GPRS Quad-band 900/1800 MHz; 850/1900 MHz
Support for GPS, GLONASS, GALILEO, BEIDOU, SBAS, QZSS, DGPS, AGPS a 33 canali. Warm start < 25s - Cold start < 35s. Precision up to 2.5 meters CEP.
Internal high gain GNSS and GSM antennas
1 digital output for remote engine lock
Extended supply voltage range, 10V to 30V
Size 79x43x12 mm - Weight 54 g
Complete with SIM card including data traffic and European coverage
Dynamic data sampling based on route
Detection alarms for cable cutting, accidents and vehicle towing
Pre-configured and ready to use
No need to waste time reading difficult manuals with hundreds of pages: the Runic.io tracker is pre-configured and ready to use - just connect it.
A complete solution
No need to buy SIM cards or external Cloud services, or install unknown software. When you purchase the Runic.io GPS tracker, you get everything you need to monitor your vehicles.
Easy installation
Installation is fast and can be done by any electrician in a few minutes, above all thanks to the small Italian manual included in the purchase package.
Technical support
Our technical support is always available to help you with any problems, thanks to the live chat on the portal and in our apps.